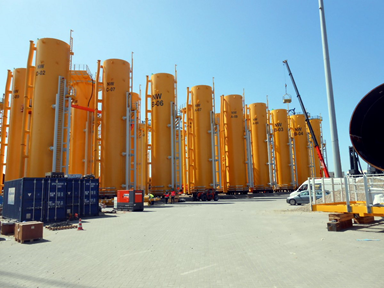 Northwind Offshore Wind Farm
Belgium
---
Project description

Northwind NV (formerly Eldepasco NV)'s mission is to develop, plan, construct and run a wind farm on the Lodewijkbank in the North Sea. Eldepasco NV was established in December 2007 by the Belgian companies Electrawinds, Depret, Aspiravi and Colruyt. In 2011 Eldepasco NV has been renamed to Northwind NV with Colruyt Group owing 2/3 of the shares and the Aspiravi holding the remaining 1/3 of the shares.

The Northwind offshore wind farm is be situated on the Belgian Continental Shelf on a sand bank called Lodewijkbank (formerly called "Bank Zonder Naam"), approximately 40 km outside the Belgian coast.

The wind farm will have an installed production capacity of 216 MW, which is realised by the installation of 72 wind turbine generators (WTG) of the type Vestas V112 – 3 MW. All WTG are erected on monopile foundations in water depths ranging from 16 m to 29 m.

The WTG are connected at 33kV level to a central positioned HVAC substation (OHVS). The OHVS has a topside weight of 1,200 MT and is erected on a monopile foundation. The OHVS is connected with a 245kV export cable to shore and a future 245 kV connection is foreseen to loop the Northwind OHVS with the Belwind OHVS.
The project was executed during 2013 and will be completed in 2014.


Services description

TORGUN bvba has provided technical assistance, being extended support to Foundation Package Management for follow-up of detail design and certification of WTG and OHVS foundations.