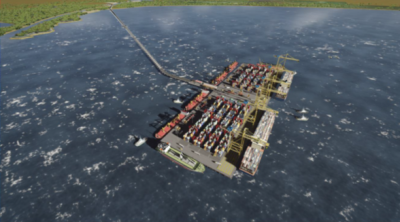 Selection of an EPC contractor for the construction of Puerto Antioquia
Colombia
---
Project description
Puertos, Inversiones y Obras SAS (PIO SAS), as promotor and developer of the project, is making all the preparations for the construction of a new port terminal in the Gulf of Urabá at the mouth of Leon River, Atlantic Coast of Colombia.
This green field project consists of an offshore terminal (in the preliminary design with dimensions of 200m x 340m), a 4.2 km viaduct, a bridge over Leon River (130m) and an inland terminal (35 Ha). It is intended to allow the following traffic:
Containers: 600.000 TEUs/year (vessels up to 13.000 TEU);
Bulk: 1.5 million ton/year;
General cargo: 1 million ton/year;
Autos: up to 100.000 cars/year.
PIO SAS is at this stage of the project making a bid process to evaluate several contractors and select one with whom an EPC (Engineering, Procurement and Construction) contract will be signed.

Service description

As part of the evaluation team of the offers during the bid process, TORGUN participates in the analysis of the technical and economical offers, clarification/negotiation meetings and making recommendations for improvements and optimizations. TORGUN provides the project manager, coordinates the team and keep the contact with the client.